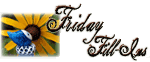 I haven't done this in awhile.
And…here we go!
1. When it's quiet I better go run to see why with five children in the house.
2. I haven't watched television in what seems like a month.
3. My heart is full.
4. It is fucking hot in July.
5. In the town where I was born lives a family I don't know.
6. His smile is something I really love about my significant other / friend.
7. And as for the weekend, tonight I'm looking forward to time with Mr. K, tomorrow my plans include going to Market in the Square and Sunday, I want to have good food and conversation with friends!